In short, telepresence is a technology that allows people to be present, and feel like they are engaging in an environment they do not physically inhabit.
When talking to companies and their employees we are sometimes asked, "What is telepresence?". This is naturally accompanied by wonder of how telepresence differs from standard video teleconferencing tools.
This is understandable, because telepresence is often considered similar to video teleconferencing tools. But what a lot of people don't know is that telepresence incorporates robotic solutions that can help people accomplish tasks and work from remote locations.

Generally, we are used to attending meetings through online video conferencing platforms. The idea of being able to move around an office, catch small conversations, or join physical meetings at the office is not common, however, when people consider remote work these days. This is where telepresence comes in.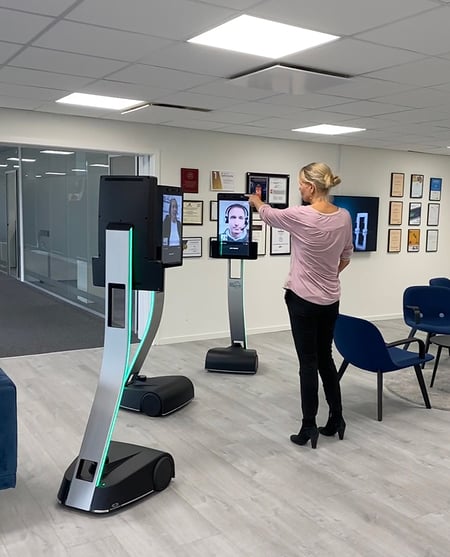 How does it work?
Well, when experiencing the technology first-hand, companies and their employees are baffled as to how easy telepresence helps them feel an office vibe or connect with colleagues on a personal level. This is accomplished through mobility and features like a 21.5-inch HD touch screen. Some have described the experience as a real-life take on a conference call.

The benefits of telepresence become even more obvious since you are not "locked" to a screen as a passive viewer. You do not need to be carried around by your colleagues on a laptop to move through the office. Rather, you can move around by yourself and go in any direction you want.

You can even reach a full walking speed with the robot. So if you ever see a coworker around the office, you can catch up - in more ways than one.
Advantages of the telepresence technology
You might already have the feeling that telepresence technology's advantages lie in the capability for real-time, two-way collaboration between people who aren't present in the same physical location.

This is only one aspect of telepresence, as one is also free to move around on-site and interact with your co-workers, customers, and business partners, all from a remote location. For this reason telepresence is ideal for businesses with multiple offices, a remote workforce, or clients in distant locales.

Telepresence can ultimately save you time, money, and from the hassle and worry of travel and transportation, all while reducing CO2 emissions.