Applications for everyone
GoBe Robots is perfect for onsite mobility and unscheduled meetings
---
Application 1
Eliminate travel expenses with reduced in-person meetings
GoBe Robots can take you wherever you're needed without travel. It means you can save time, money and hassle from travel.
Application 2
Reduce CO₂ emission with no travelling
Be anywhere, anytime without travelling and help reduce CO₂ emission at the same time.
Application 3
Review production daily without travelling
No matter where the production is, GoBe Robots allows you to review production and maintain factory quality and timelines in real time.
Application 4
Visit special events or venues off campus anywhere in the world
GoBe Robots provide greater accessibility and inclusion with immersive telepresence. GoBe Robots create broader appeal by opening doors to former inaccessible cultural experiences.
Application 5
Establish face-to-face relationships with clients
Part of good communication is non-verbal, providing vital feedback during collaborations and meetings with clients. GoBe Robots gives you the perfect ability to Go & Be Present.
Application 6
Attend trade shows and bring customers with you
GoBe Robots ensures that events and trade shows are accessible for customers from other cities or countries.
Application 7
Bring guest lecturers and experts into the classroom
The World Is Your Classroom. GoBe Robots enabling guest lecturers and experts to teach without travel.
Application 8
Allow student accessibility from home when sick or unable to attend
Make The Classroom More Accessible. GoBe Robots gives remote students with individual needs and abilities access to attend class.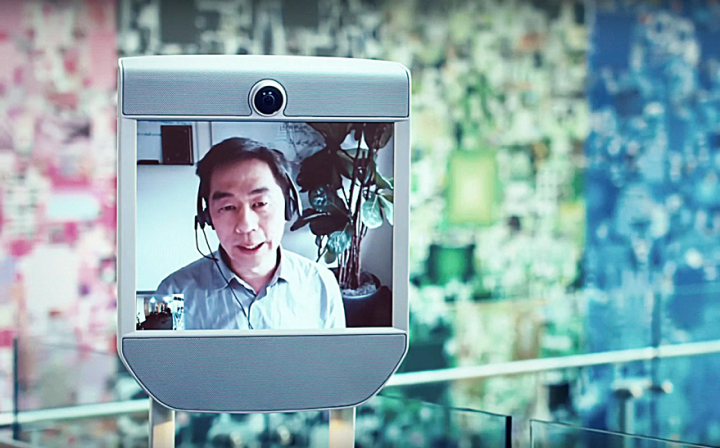 MICROSOFT CASE STUDY
GoBe Robots supports Microsoft Research's efforts to save costs and time
UCL CASE STUDY
OAC Seeks to Optimize Teamwork While Reducing Travel